Social Media Super Powers for
agencies teams marketeers solopreneurs small businesses you you entrepreneurs bootstrappers content creators affiliates
If you have been wrestling spreadsheets to scale your social media content, it's time to make the switch to Post Maker.
Works with the following Social Media Schedulers












The Social Media Post Maker
Create
Conquer Social Media Writer's Block with ideas, inspiration and suggestions.
Turn Blog Posts or Websites into your very own idea factory.
Scale
Take your ideas and spin many unique variations.
Experiment with images, hashtags and different copywriting styles easily.
Generate images to go with your posts.
Export
Export your posts as a CSV ready for bulk scheduling straight into your favourite tool (over 25 schedulers supported) in the perfect format.
Use the API for your own workflows.
Say that again?
You have content that is worth sharing more than once. It could be a regular post to kickstart a weekly conversation, it could be talking about different aspects of your business or services or altering your affiliate link messaging to appeal to new audiences.
We built Post Maker to help you create different versions of a post easily by taking a single idea and spinning it, using Spintax, into many, many more.
The output will all be unique posts, no repeats here.
So, if you've got an idea of what you'd like to say but don't know how to get it there yet – let Post Maker do that work for you!
You will be able to create custom templates using Post Maker so you can easily reuse them across all your social media accounts. You'll also be able to add images, videos, links and more to each post as well as set up automatic scheduling options.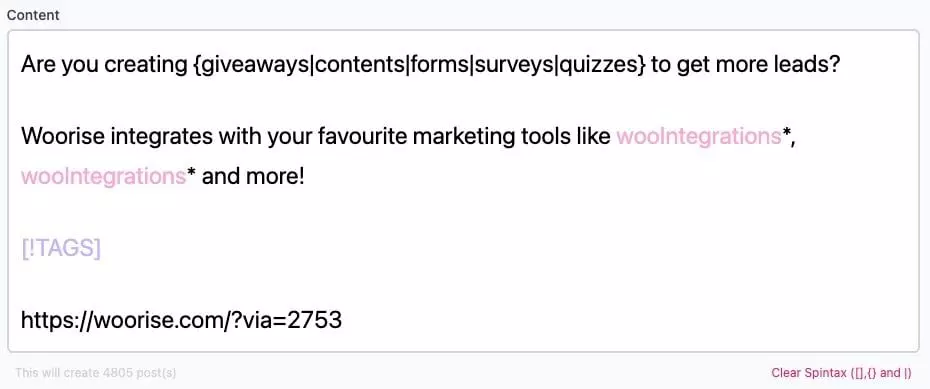 Spintax will generate a version for each possible combination.
Using a Variable to add pre-saved information into your post.
Hashtags will be added here
The Very Best of Your Content
Reduce, reuse and recycle
If you're working with multiple clients or different campaigns for your own business you'll want to have your ready-made CTA's (Call to Actions), Scroll Stopping Headlines and handcrafted hashtags ready to use.
Post Maker lets you save content to put into new posts, via variables, to help reduce the time and effort in crafting your campaigns.
Experiment Like a Mad Scientist
it's alive! Alive! Arrrhhhh, now I know it is really possible!!!!
We help you scale, but also we help you experient. When generating you can choose to use different hashtags, images, videos, call to action, or whatever.
Post different ideas, measure and refine. Nobody makes it as easy to try loads of different post variations to test out your ideas, tweak them and increase engagement.
Your Social Media Ideas Factory
What to say.
Coming up with ideas to post isn't easy, but you don't just want to copy and paste everyone else's tired ideas.
Sure, there's nothing wrong with getting a little bit of inspiration from the millions of Social Media Calendars out there, but please make it your own.
Pull ideas from your website or RSS automatically to find ideas hiding amongst your glorious existing content.
Life's Not static.
Add dynamic elements into your post, for example if you've got an event coming up you can use !!until to insert the time until it happens, !!since will show you days since a campaign has started.
There are more coming too to keep your posts fresh.
Fancy a Date, or TWO?
We know that your scheduler might have some fancy calendar built it. That's cool, but hear us out.
If you've got a lot of content created from Post Maker that you want to have fine control about when it gets scheduled you can use our schedule builder – it's awesome when you want to post at fixed times, dates, or intervals.
It uses a CRON Expression, for example
5 13 * * WED,FRI
will post at 1:05pm on Wednesday and Friday
If you want to see how CRON helps you, take a look at https://crontab.guru/ it helps you build the CRON Expression.
Web'hooked ON Making life Easier
You can integrate Post Maker into your Social Media Workflows, or anything else where you want to harness the power of our text generation.
Instead of sending the same text for the umpteenth time, imagine making a Webhook request to Post Maker and getting back one of 1000's of possible variations from one of your campaigns, keeping it natural, organic and incredibly simple.
If you hook Post Maker up to your automation, using something like Zapier, IFTTT or Integrately you can dynamically pass in values to replace from the body of your message.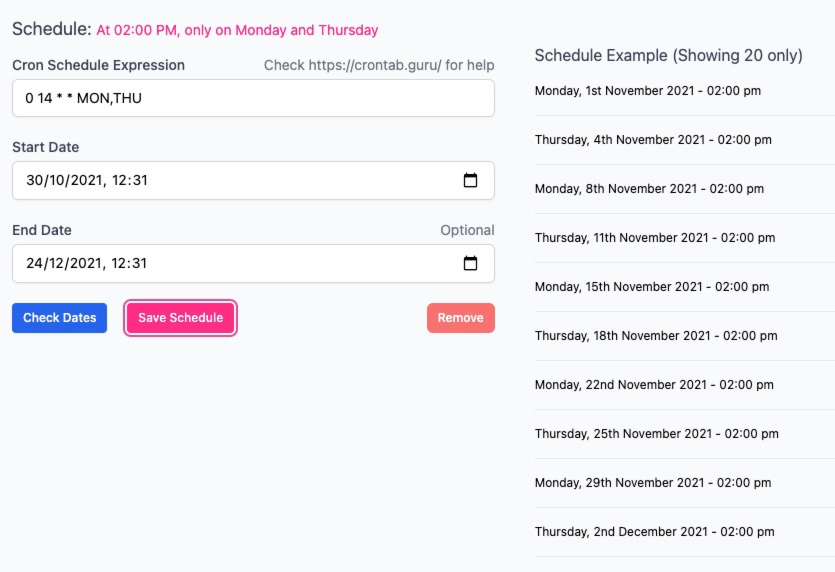 Imagin' That
Use Post Maker to create a whole bunch of Social Media Images quickly and easily. Simply find your background images, select your variable and choose which text to overlay – Post Maker will then generate every combination for you and dynamically replace your text with the relevant variable content.
The Social Media Companion
We know you probably already love your existing Social Media Scheduler. We built Post Maker to work alongside it, giving it a boost. We focus on the generation, and ideation stages, so we don't need to worry about the rest.
We currently provide exports for
Agorapulse

Amplifr

CoSchedule

ContentStudio

eClincher

HelloWoofy

Hootsuite

Lately

MeetEdgar

Planable

Postcron

Post Maker

Postoplan

RADAAR

RecurPost

SemRush

Sendible

SmarterQueue

SocialBu

SocialChamp – Recycle

Social Pilot

Sociamonials

Sprout Social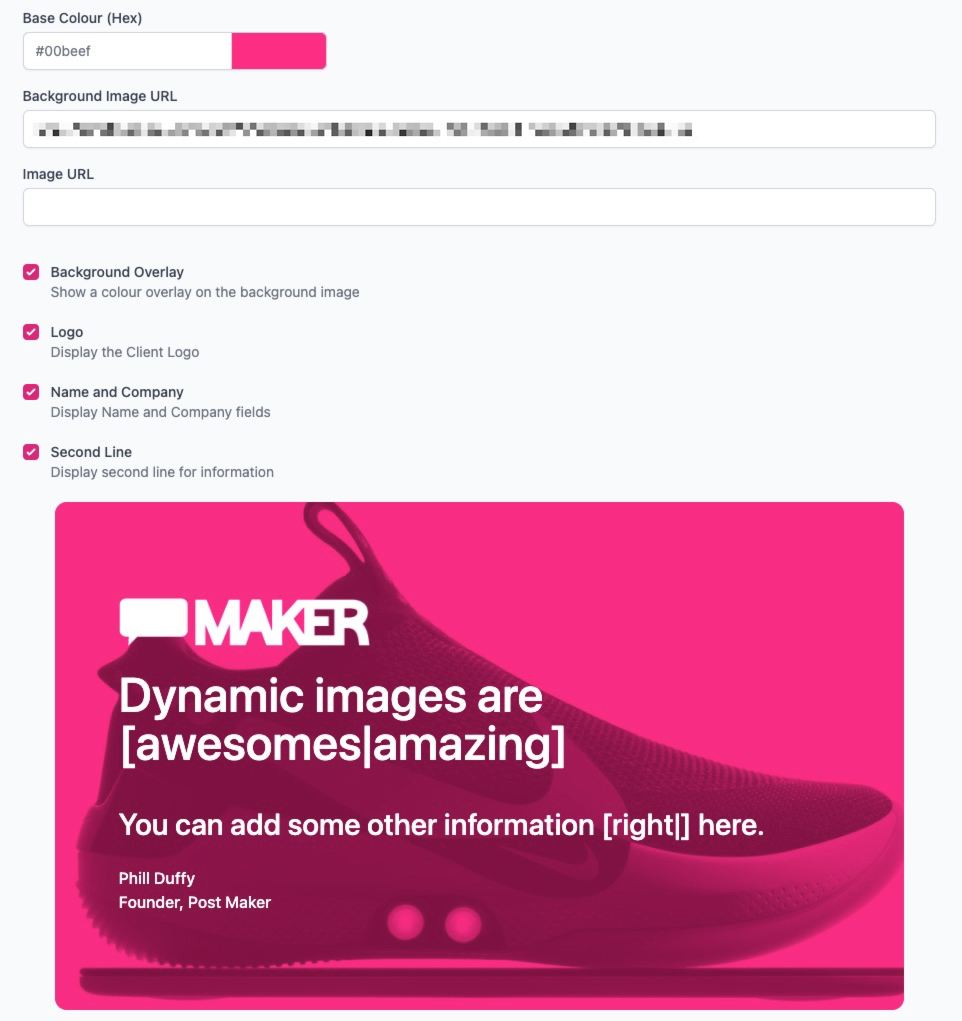 I just started with revamping my business and need a lot of Social media posts to spread the word.
I'm really surprised at the ease of use!
I just made a few hundred posts, exported the CSV, and imported it into Publer.
Works like a charm!
A well thought out UX really helps make this easy to use. I had no idea it included an "Inspiration" feature where you paste in a URL and it gives you short chunks of content that you can just click to add to the variation builder.
I have been using it for 2 days and already have generated and scheduled a year worth of posts for one of my client FB pages.
A big advantage with this tool is, it gives a small team, or solopreneur the discipline to move VERY quickly and just get lots of content cranked out. Move onto the next thing.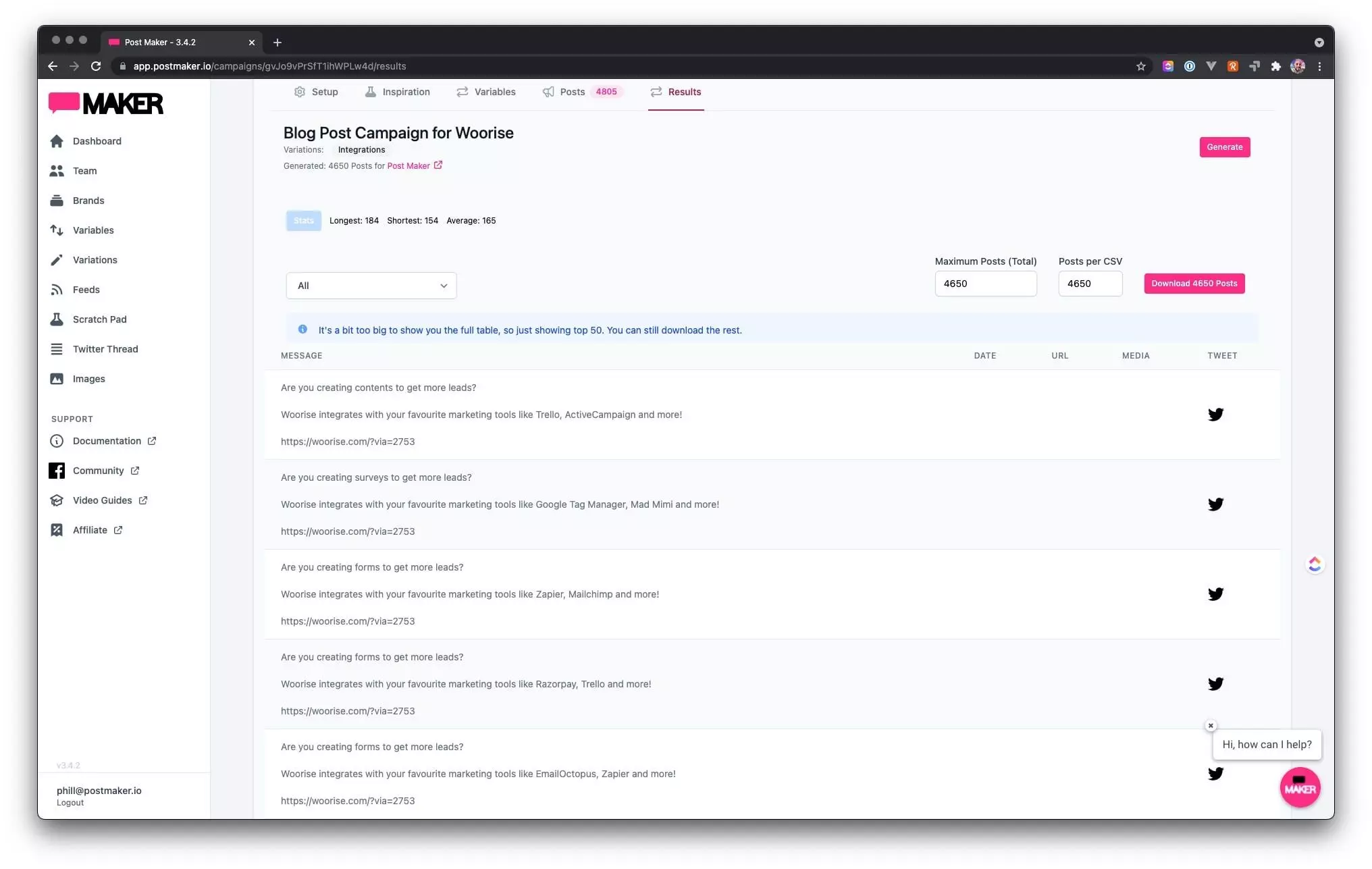 Frequently Asked Questions
You don't have my scheduler, can you add it?
Absolutely, if we can find out the CSV format your provider needs, we will add it. Message us at [email protected] if you want to talk.
Does Post Maker use AI?
No, we help you find your own ideas and then generate more unique variations from them using Spintax and more.
How does it work with my scheduler?
We export the content into the CSV format supported by your scheduler. Just import and away you go.
Do you have a Facebook Group?
Does it work in all languages?
We have users around the world using Post Maker in various languages. We will support any language we can.
Can I use it with X Social Media Network?
Post Maker doesn't post the content itself, it works with your existing Scheduler – if they support a Social Media Channel via their import, then it will work from Post Maker too.
How do I import the content?
We have written a guide here for Bulk Importing Tweets, but the same applies for our Social Media Channels
Doesn't all the content come out the same?
Content created with Post Maker should be managed carefully and mixed in with other types of posts. It is a great way to passively advertise, promote or keep eyes on your content, ensuring each post is unique.
How long does it take?
We have users who have generated a year's worth of content in a few hours.
Can you generate Social Media Images?
We are working on this, it will allow you to 'spin' images too!
Contact Us
We would ♥ to hear from you. If you want some more functionality, need help or just want to be #Social